A time to meet, reflect and look ahead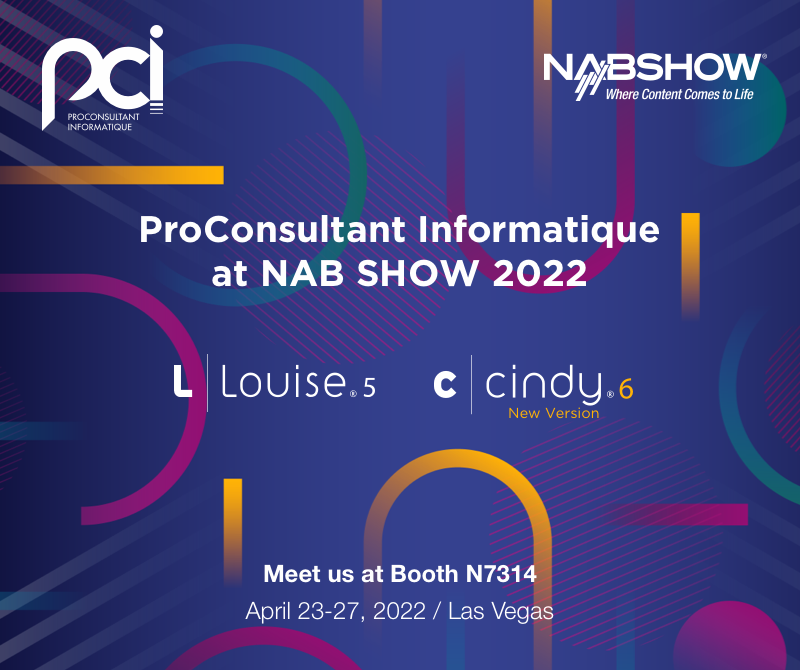 It's been a while – two whole years, in fact - since NAB 2020 was cancelled along with so many other trade shows and events. So, we don't take it lightly when we say we are excited and humbled to be heading to Las Vegas April 23- 27 where we hope to meet many familiar faces and to get to know new ones.
Over the last two years we've all used video conferencing to keep in contact while remaining physically remote but this will always be a poor relation to actual human connection. While, hybrid workflows including using Teams or Zoom will remain an important part of a flexible working life, the pandemic has underscored the profound role that socialising plays in our business and creative decision making.
There's nothing quite like 'reading the room' and being able to talk business and discuss issues and trends with each other in-person, client or colleague alike.
So, we embrace the opportunity to meet once more at NAB and will head to Las Vegas thankful that our team, their families and our extended friends in the industry are healthy enough to do so.
The show itself has been changed in the aftermath of the pandemic. Not just practically, where there will still likely be fewer attendees from outside North American than normal, but in the themes of the exhibits itself.
More so than ever, every technology investment decision hinges on its applicability to business continuity, agility and value for money. Many of the remote and hybrid workflow scenarios forced on media and entertainment these last couple years have proven their worth in productivity, greater efficiency, sustainability and improved work-life balance.
CTOs will be walking the showfloor to learn more about the systems that worked – and those that didn't – in order to upgrade, modify or cement the technologies they already have in place.
We have taken the opportunity over the last year to completely overhaul one of our flagship products. Cindy is an
advanced software that helps Media Groups maximise their linear and digital ad sales. In one single
software
Cindy facilitate
s
sales operations, optimise
s
ad inventory
and
bring high productivity to ad traffic processes for TV
,
r
adio,
and also for digital inventory thanks to a smooth integration with various ad servers of the market.
We are delighted to introduce to the market at NAB2022, the new version of Cindy which has been rewritten from the ground-up relying on a micro-services architecture which allows its deployment either on-premises or in the cloud. Not only does it contain all of the features which Cindy users rely on to increase ad sales, the whole user experience has been upgraded too making it an even more intuitive and easy to use solution.
The new look Cindy will be unveiled at NAB where we will be demonstrating the product for the first time ahead of its full release to the market at the end of April.
Having reworked Cindy, our customers may be interested to know that we are also putting Louise through the same process of internal R&D, investment and programming. Louise is our business management solution (BMS) for
any kind of
m
edia
organisation
, from single television station to multi-channel group, from very thematic channel to generalist network, from linear broadcasting to VOD
/OTT publishing. We invite anyone wishing to learn more to join us on our booth at NAB.
Our singular focus on the media industry has given us a thorough understanding of clients' needs and the challenges they face in an increasingly complex and rapidly changing industry. As a result, our solutions provide the framework, functionality and flexibility to meet their diverse needs even in this most challenging of times.



Come and say hello at Booth #N7314

Louise© is a complete end-to-end Business Management Solution (BMS) scalable for any kind of Media Group, from single television station to multi-channel group, from very thematic channel to generalist network, from linear broadcasting to VOD/OTT publishing. Relying on linear/digital rights handled by the state-of-the-art Rights Management Module of Louise©, a Media Groupe secures its content and operations, including long and detailed ...
Find out more

Cindy© is an advanced Ad Sales Solution to facilitate sales operations, optimize ad inventory, bring high productivity to ad traffic processes and increase sales revenue. On the one hand, the Linear ad sales for TV and Radio, including addressable ad sales, are smoothly managed in Cindy© from the first ad sales proposal to the invoicing generation covering all stages of the ...
Find out more

Mogador© is the Digital Publishing API which allows to carry out dynamically and smoothly the publication of media content on Digital Platforms (OTT, VOD, Catch-Up TV, ...). While Louise© with its built-in Workflow Engine supports business operations to deliver content to the Digital Platforms, the business-designed Mogador API automatically populates them with the corresponding useful metadata. Moreover, to optimize daily work with ...
Find out more