Business Management Solution for Media Groups
A single, scalable software for linear and non-linear services

Louise © is a complete end-to-end Business Management Solution (BMS) scalable for any kind of Media Group, from single television station to multi-channel group, from very thematic channel to generalist network, from linear broadcasting to VOD/OTT publishing.

Louise © offers end-to-end management of essential program and business information in its centralized database including rights, contracts, scheduling and all associated metadata.

Louise ©, acting as the content hub, addresses the growing complexity of the television and broadcasting industry, including tapeless workflows and multi-platform channels by providing a rigorous yet flexible structure for dynamically managing and tracking media assets with maximum control.
Centralized database
provides single solution regardless of the number of channels, whether linear or non-linear.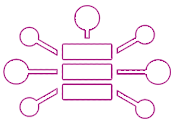 Complete metadata management
of programming content - rights, television scheduling, financials, library management, commercial blocks, and airtime continuity.

Dynamic updating
Multiple dynamic links automatically reflect changes in real-time to ensure the latest, accurate information.

Seamless integration
with other internal systems and industry standard equipment, such as automation, broadcast servers and archive systems.

Automate Processes
Task Manager automatically handles incoming and outgoing "orders" including playlist exports, device control, event triggers, background recordings, Internet page creation and more.

Streamline workflows
Easily adaptable to different broadcast management needs, including linear and tapeless workflows.